Research Highlights
Rice origin gives more insight on new world slave trade
Published online 4 October 2016
Scientists trace rice in New world to African origin.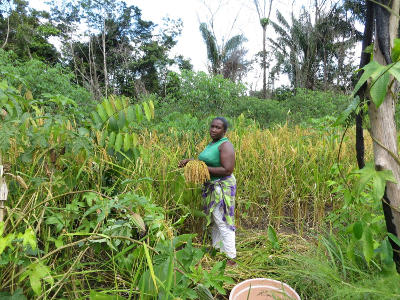 In 2008, Tinde van Andel found evidence that has brought the historical debate of the origin of rice cultivation practices in the New World closer to Africa – now, he provides final proof that "African rice was and is still grown in the New World by descendants of African slaves," he says. 
Andel, the first author of a new study in Nature Plants found black rice, Oryza glaberrima, in Maroon fields in Suriname. The study comes in the heels of much debate among historians on the origin of rice plantations in the New World. 
Through a DNA study conducted by the researchers across the Netherlands, USA and the UAE, the rice was traced back to the western Ivory coast. 
Rachel Meyer, co-author of the paper, compared the Suriname rice genome with over 100 types of rice genome sequences she had collected from Senegal to Tchad and the rice was very similar to that found in Suriname.  
Rice cultivation practices are important in understanding the origins of cultures. 
"Rice is so much more than just food: it is life, history, survival, religion and, in the case of the enslaved Africans, one of the few physical things that reminded people of their homeland," says Andel. 
These findings are a gateway to further research on other cultivation practices. "These people also grow rare landraces of bananas, taro, okra, sesame. These crops of African origin can possibly tell us much more about the provenance of plants and peoples," adds the first author.
doi:10.1038/nmiddleeast.2016.178
---