News
Leishmaniasis crisis looms in South Sudan
Published online 28 August 2016
Malnutrition and displacement leave South Sudanese vulnerable to visceral leishmaniasis with increased risk for the wider region.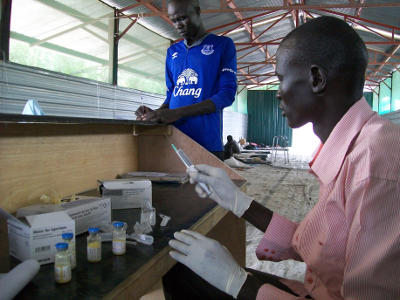 Scientists tracking the correlation between war, migration and disease fear that the humanitarian crisis in South Sudan could lead to outbreaks of infectious diseases, such as visceral leishmaniasis, across the region. 
Visceral leishmaniasis, or kala azar, is a parasitic infection of the blood stream passed by the bite of the sandfly. It destroys the liver, spleen and bone marrow and is fatal if left untreated. 
"During the Sudan war in the 1980's and 1990's, more than 100,000 people died of this disease. That's 10 times more than died from Ebola in West Africa. A similar catastrophe could be unfolding now," says Peter Hotez, dean of the US National School of Tropical Medicine, and United States Science Envoy to the Middle East. 
Visceral leishmaniasis is endemic in Sudan and South Sudan, where the climate allows sandflies to thrive, and poor health systems are inadequate to treat sufferers. There is some natural immunity in endemic areas. But evidence suggests that conflict, and the chronic malnutrition and displacement that follow, interrupt the cycle of immunity and allow the disease to flourish. Non-immune people fleeing conflict move into endemic areas and are rapidly infected. Refugees with the disease may carry it into new locations where the sandfly vector will pass the parasite into a new population and cause fresh outbreak. 
The more malnourished people are, the more likely they are to develop symptoms.
"We expect another outbreak. Data show that figures in the region go up or down according to peace or war," says Waleed Al Salem epidemiologist at the Vector Borne Diseases Unit, Saudi Arabian Health Ministry and co-author, along with Hotez, of a review of visceral leishmaniasis in South Sudan, published in Parasites and Vectors1 last week.
Nearly five million people face food insecurity and a quarter of a million children are currently at risk of acute malnutrition in South Sudan, according to the UN Office for the Coordination of Humanitarian Affairs' most recent estimates. Around 1.6 million people are internally displaced, and more than 900,000 have fled to neighbouring countries.
"We have emergency stock [of medicines and diagnostics], waiting to be shipped, because we are on standby," says José Antonio Ruiz Postigo, head of WHO's Leishmaniasis Control Programme. "If we see more population movement, in a year or so we may see a sharp upsurge in visceral leishmaniasis cases."
The disease's incubation period can be as long as a year, so cases are not immediately reported. The ongoing violence also prevents patients reaching health centres, so many deaths will initially go unreported. 
Improved data monitoring and diagnostics are essential to understanding epidemic outbreak because the interaction between people, sandflies and the environment is nuanced and often highly localised, says Ruiz-Postigo. He estimates that there is an epidemic every decade because natural immunity decreases in populations over time even in endemic areas.
The last set of global figures published by Alvar et al in PLOS One5 peg the incidence of visceral leishmaniasis at around 30,000 a year in East Africa, but this is based on data from before 2008. More recent information from the World Health Organisation (WHO), published by Abubakar et al in PLOS Neglected Tropical Diseases4, shows that during the epidemic of 2009 to 2012 there were over 28,000 cases in South Sudan alone, three quarters of which were children.
In 2014, a new outbreak of civil war in South Sudan increased infection rates of visceral leishmaniasis within and across borders. Country profiles released this year by the WHO show that more than 8,000 cases were reported in South Sudan. And disease incidence more than doubled in Kenya, rose by one third in Ethiopia and by half as much again in Sudan.
"Due to conflict, people were not able to access healthcare or equipment to protect themselves from sandflies, like mosquito nets. When people are bitten and not treated, they act as a source of infection," says Lukman Hakim Bauty, who was posted with Medecins sans Frontieres emergency response team in Lankien, Jonglei State in South Sudan at the time.
In the Middle East annual infections in the region range from 5,000 to 10,000 a year, according to Alvar's old estimates5. More contemporary information on the region is due to be released by the WHO later this year. For now, WHO country profiles of a few countries released in June give us the best insight. Morocco had the highest recorded number of visceral leishmaniasis cases at 86 cases, followed by Iran, Tunisia, Syria, Algeria, and a dozen in Saudi Arabia3. A new indicator based on how many people live in endemic areas around this number of infections, brings into reality the risk for people in the region: 90 per cent of the population are at risk in Tunisia, 32 per cent in Saudi Arabia and 10 per cent in Morocco.
The Middle East is host to the sandfly vector that widely distributes leishmaniasis. Where the disease is transmitted between people, the specific parasite between the two regions and diseases are different ­­– L. Donovani promotes the visceral form, and L. Tropica, the more widely spread cutaneous form. 
"Most of the world's most neglected diseases are among the poor living in G20 countries and that includes leishmaniasis," says Hotez. "It's the G20 that now need to take on greater ownership of these diseases."
doi:10.1038/nmiddleeast.2016.129
---