Research Highlights
Non-cancerous: Circulating tumour cells re-defined
Published online 7 July 2016
Tumour cell clusters circulating in the blood of cancer patients could provide a means of early cancer detection.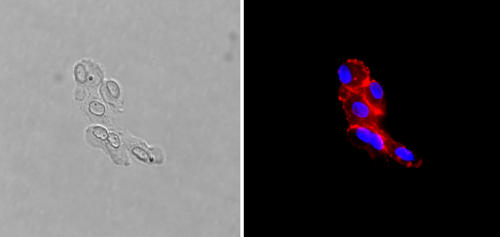 The conventional scientific view that cells from cancer tumours floating freely through the blood stream are involved in cancer metastasis is under challenge. 
Now, scientists studying colorectal cancer have found that many cell clusters are not malignant.
The study, published in Science Translational Medicine, reveals instead that these clusters are non-proliferating cells shed from the innermost lining, or endothelium, of tumour blood vessels1. 
Biochemical and genetic analysis of samples from colorectal cancer patients and mice with colorectal tumours show that cell clusters mirror features of the matching tumour but do not share genetic mutations with it. The clusters are not formed through the coagulation of multiple single cells but seem to have been shed together into the blood from the tumour directly.
"We have characterized a distinct novel circulating entity in the blood of colorectal cancer patients from tumour endothelia." says lead scientist Min-Han Tan, from the Institute of Bioengineering and Nanotechnology, Singapore. 
"This provides us with the opportunity to non-invasively assess the tumour vasculature in a patient through serial blood sampling. One can imagine administering drugs and evaluating the impact of such agents." 
Endothelial clusters were detected in the blood of untreated colorectal cancer patients, but rarely in healthy individuals. This suggests that these clusters are an indicator of early-stage disease and paves the way for the development of a blood test, or "liquid biopsy", as a noninvasive screen for colorectal cancer.
The team — comprised of researchers from Singapore, the United States and Saudi Arabia — will now evaluate these cells in other types of cancer, says Tan. They aim to develop additional liquid biopsy techniques to enhance the capture and characterization of these clusters, especially in relation to drug therapy.
doi:10.1038/nmiddleeast.2016.106
---