News
Tough tests for new solar technologies 
Published online 21 May 2015
Masdar Institute in UAE has set up a facility to test new solar energy technologies in the Gulf harsh weather.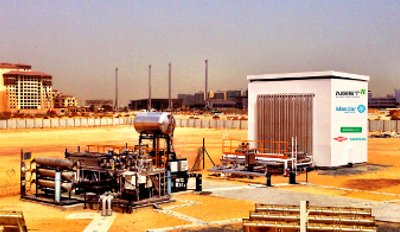 Masdar Institute of Science and Technology has developed a site to test new solar energy technologies in the harsh Gulf conditions and help deliver innovations to the market.
The facility will offer accreditation, known as Energy Performance Certificates (EPCs) to new technologies after they are tested in a Gulf environment, where weather conditions are vastly different from Europe.
Nicolas Calvet, chairman of Masdar Institute Solar Platform in Abu Dhabi, which is part of the project, says the hub will bring together solar industry players, researchers, project developers and government stakeholders, along with experts from Masdar Institute. When industrial partners want to test a new photovoltaic panel, for example, in the Middle East market, "they can ask Masdar to evaluate their new panel by testing it in extreme conditions of sand, humidity and high temperature," explains Calvet. 
Mohamed Ibrahim, an engineer at the New and Renewable Energy Authority in Egypt, says that the capacity to verify locally the efficiency of solar panels is an important step towards boosting the regional solar panels industry.
Marc Vermeersch, the managing director of the Solar & Photovoltaics Engineering Research Center (SPERC) at King Abdullah University of Science & Technology (KAUST) in Saudi Arabia says the hub could be the "beginning of a real, practical experience on the field."
"The best way to learn about a product, technology or a process, is by a hands-on approach," he added.
The solar hub has already being utilized by Japanese company IBIDEN to test different cleaning methods on their newly developed panels of silicon carbide mirrors. 
Calvet says the aim is to eliminate or significantly reduce the use of water to clean the mirrors, as it is such a scarce desert resource.
Vermeersch insists that such hubs should not be isolated, but be part of a network to be more effective to "support MENA's economic development and moving from a fuel-based to a technology-based economy."
doi:10.1038/nmiddleeast.2015.88
---