Features
Yemen's failing healthcare system 
Published online 4 May 2015
Scarce medical supplies, water and fuel shortages and thousands of wasted vaccines are a looming catastrophe for conflict-ravaged Yemen.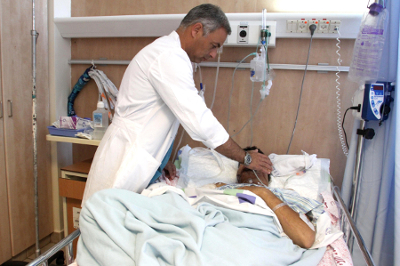 Yemen's healthcare system was already acutely under-developed before the country was plunged into the current conflict, with barely enough doctors and hospital beds to meet national demand. Now its ailing public system is on the brink of collapse as power cuts and fuel shortages wreak havoc and vital medical supply levels continue to dwindle. The crisis also means long-dormant diseases could be arise again. 
Major hospitals will soon be unable to provide services, perform operations or provide intensive care to patients, according to Yemen's Ministry of Public Health and Population. 
"It is not only the injured presenting problems, but the fact that staff needed to care for them are trapped at home," says Mohammed Musoke, a physician at the Medicine San Frontiers' Emergency Surgical Unit in the southern war-torn port city of Aden. Speaking by phone, he describes the situation as dire. 
The poorest country in the region was thrown into further chaos last month after a Saudi-led bombing campaign against Houthi rebels began, with the aim of restoring  the authority of President Abdrabbuh Mansour Hadi. 
Despite Riyadh saying it was winding down the campaign, air strikes continue, along with fierce fighting on the ground between the Houthis and Yemeni-government aligned militiamen. 
"The fighting is ongoing every day and everywhere. I'm now starting to see patients who were injured three days ago, but were unable to reach the hospital because the roads are blocked," says Musoke, speaking from a hospital run by MSF where he has been on lockdown since the Houthis began their offensive to capture the port a few weeks ago. "They are coming in with infected wounds and serious complications from gunshot wounds. Most patients are critically injured," he says.
A total of 1,244 people were killed and 5,044 injured in the violence between 19 March and 27 April, according to the World Health Organisation's (WHO) latest figures. 
Ahmed Shadoul, WHO representative for Yemen, says health facilities are coping with "critical shortages of life-saving medicines, trauma care, and surgical and medical supplies, as well as medical staff to cope with the growing influx of patients". 
Health workers and facilities are also being targeted in the fighting, says Marie Claire Feghali, spokesperson of the International Committee of the Red Cross (ICRC) in Yemen. 
"[There is] a lack of respect for health workers – ambulances are being shot at, drivers and nurses killed. Hospitals are being used as strategic fighting points, making health workers' jobs even more treacherous," she says.
"The increasing politicisation of healthcare is also worrisome; there appear to be cases of treating or denying patients healthcare [and] allowing medical goods to pass based on political affiliation."
Meanwhile, a shipping ban in Yemeni waters is exacerbating an already severe fuel shortage and increasing power cuts. Shadoul is worried this could lead to an outbreak of measles or polio, which had been eradicated, because maintaining a cold chain has become difficult. 
Already thousands of vaccines for polio, measles and other diseases had to be discarded in the south Lahi province because fuel for their refrigeration ran out. 
Yemen has long been hampered by a water crisis – it is one of the most water-stressed countries in the world with only 86 cubic metres of renewable water sources available per person per annum, according to the World Bank – far lower than the global average of 1,385 cubic metres per capita. 
"In Taiz [a city in the Yemeni Highlands], one of the key hospitals has been out of water for three days now. Can you imagine a hospital without water? It is a desperate situation," Feghali says. 
Health experts say the water shortage had increased the risk of diarrhoea, pneumonia, malnutrition and other diseases. 
Yemen already had one of the highest levels of malnutrition in the world – last year it stood at 48%, according to UNICEF. Hajir Maalim, country director at Action Against Hunger in Yemen, estimates the number of Yemenis suffering food insecurity may have increased by 20% because of the war. 
Maalim explains that the impact of the violence on national nutritional is only expected to be noticeable when the crisis enters its six-to-eight week mark. He says he's concerned that the number of acute malnutrition cases may rise significantly. 
But as the humanitarian and health situation continues to deteriorate in Yemen and the need for aid becomes more urgent, Musoke said he is fearful of the scope of what is to come. "You realise that if this goes on and most public hospitals don't have the resources to cope, maternal and child health will be affected," he said.
"I'm concerned that if the fighting and injuries continue, supplies will run out. We have to continue to negotiate to receive humanitarian aid." 
doi:10.1038/nmiddleeast.2015.80
---