News
Bringing science to the policy-making table 
Published online 30 March 2015
A new centre at the American University of Beirut hopes to bring policymakers the benefit of science to aid decision-making.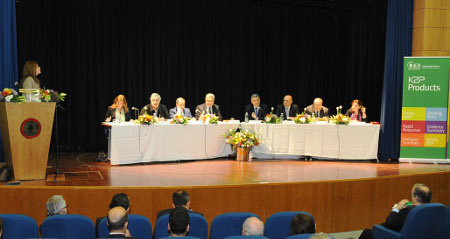 In many parts of the Arab world science is sometimes overlooked in the formulation of government policies, to the detriment of the best possible health outcomes for citizens. 
The Knowledge to Policy (K2P) centre – established by the faculty of Health Sciences at the American University of Beirut (AUB) – wants to bridge the gap between scientific knowledge and policy by bringing the best available evidence to policymakers and ultimately improve health outcomes in Lebanon and the MENA region.  
The founders say that K2P is the first centre in the Arab world and the second one globally (after McMaster Health Forum at McMaster University in Canada) to promote evidence-based policies. They will enlist stakeholders, civilians and researchers for collective problem-solving, which will hopefully lead to systematic strategies. 
The Lebanon-based centre, launched this month, is already lending its expertise to stakeholders and policymakers in Oman, with the support of the country's ministry of health. 
Fadi El-Jardali, founder and director of K2P, says the centre provides health data, high-quality evidence and facilitates sessions of deliberation for policy-makers and other stakeholders. The information provided, according to the centre, is objective, transparent, jargon-free and available in Arabic and English. 
It addresses issues topical for the region, such as mental health access to care for Syrian refugees, food safety, universal health coverage, and salt fluoridation. K2P is also working on governance of pharmaceutical sectors, performance contracting with healthcare providers and patient safety. 
"A focus of K2P is the role of media and how to promote evidence-based health reporting,' says El-Jardali. "Media plays a critical role in informing and shaping public opinion and the inception of public health policies." The centre works with directly with journalists to share information and support evidence-based health reporting. 
El-Jardali says: "Evidence is the only way to minimise conflicts."
doi:10.1038/nmiddleeast.2015.61
---