News
Light for peace
Published online 11 December 2015
Building a synchrotron, a project aimed at bringing together previously warring Middle East nations, is finally close to completion.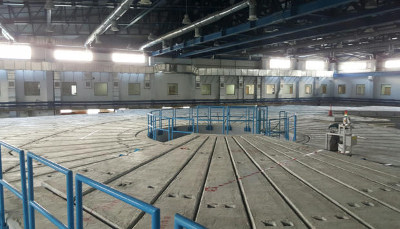 The road to unite Middle Eastern countries that have shared enmities in a collaboration to build a synchrotron has been a long and bumpy one, but it may be finally coming to an end. 
The Synchrotron-light for Experimental Science and Applications in the Middle East (SESAME) was first proposed in 1997 as an initiative to use science to promote peace between countries with a history of conflict: Bahrain, Cyprus, Egypt, Iran, Israel, Jordan, Pakistan, the Palestinian Authority, and Turkey. 
The idea was inspired by the successful model of CERN, which was created after World War II to bring together the warring states of Europe and help them conduct science that was beyond the capabilities of individual member states.
Work on SESAME, however, officially began in 2004 with the establishment of a permanent council. Al Salt in Jordan was chosen as the base of the facility. 
The original plan was to refurbish a decommissioned accelerator from Berlin, but this was abandoned in favour of creating a more powerful synchrotron – with a larger ring that can store energy up to 2.5 GeV, compared to only 0.8 GeV from the German accelerator.  
"For SESAME to be politically successful, the science has to be first class."
This was easier in theory; a myriad of problems flared in the region every time the team responsible for building the accelerator felt they were close to overcoming difficulties. For example, the frequent changes in government in Egypt, which brought nine different science ministers over the past three years, has put a US$5 million contribution on hold. Iran had difficulty contributing capital to the project due to the sanctions imposed on it that were only recently lifted. Last year, a severe snowstorm caused part of the facility's ceiling to collapse, but fortunately cranes in position at that time prevented any damage to equipment. 
"I won't hide the fact that SESAME has come through some very difficult times, but mostly it was due to funding not political issues," says Chris Llewellyn Smith, president of the SESAME Council and former director-general of CERN. "The real problem has been in getting capital fund."
Getting close
Smith's latest estimates suggest that SESAME should start accepting proposals in the second half of 2016, and should be conducting experiments in 2017. The scientists and technicians there are hard at work installing the tube, the magnets and all the power sources, he says. 
The real success of the project, and the 'science for peace' initiative, however, would be conducting "good science", stresses Smith. "For SESAME to be politically successful, the science has to be first class. Otherwise researchers will not be interested in going there." He hopes that the accelerator will attract Middle Eastern scientists to come back to the region and contribute to a science renaissance.
Maher Attal, the accelerator physics group leader, says the number of researchers in the region who would benefit from synchrotron-light is small, but that SESAME will boost researcher numbers. "We expect the number of researchers to increase as SESAME grows."
SESAME also has a training component, in partnership with other accelerator laboratories in the US and EU. Several of the trainees are involved in the building of SESAME.
Once complete, SESAME should attract scientists from a wide spectrum of disciplines, from biological sciences and archaeology to chemistry and material sciences, says Gihan Kamel, an Egyptian infrared microspectroscopy beamline scientist at SESAME.
doi:10.1038/nmiddleeast.2015.237
---