News
Climate and instability threatens water and food supplies in the Middle East
Published online 23 April 2014
Climate change and regional instability are taking a toll on farmers in the Middle East and worsening water and food insecurity.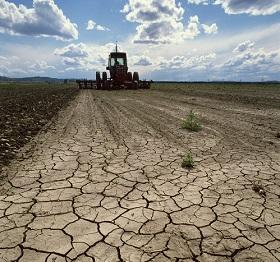 Lebanon is facing a major challenge to its food and water security as the influx of Syrian refugees continues to place tremendous pressure on the country's resources, a new report warns.
The report, produced by the American University of Beirut and the American University of Cairo, measured changes in water availability and agricultural production as a result of climate change and population growth in Lebanon and Egypt. It found that Lebanon was facing serious water scarcity and should expect a reduction in rainfall due to climate change.
The report presents two case studies: that of the Beqa'a, Lebanon's leading agricultural production region and Kfardebian, which has more water but less suitable farmland.
More than 40% of farmers in Kfardebian and 81% in the Beqa'a said they were facing water shortages, exacerbated by the region's close proximity to Syria which affects the quantity and quality of water available to the villages, food security and land availability as the refugee influx continues.
Report co-author Nadim Farajalla, associate professor of environmental hydrology at the Faculty of Agricultural and Food Sciences at AUB, says he expects the water situation in Lebanon to worsen. "We officially have our millionth refugee and we've had a horrible winter with very little rain.
"Water will sort of 'run out' in the sense that springs will dry out early in the year and the only source would be groundwater with a dropping water table. Along the coast we will draw seawater in at a much greater rate. All of these will bode ill for next year if we do not get enough rain and snow."
Michael Mason, associate professor of environmental geography at the London School of Economics agrees. "The influx of Syrian refugees is not something the Lebanese government could reasonably have been prepared for."
The report adds that the Syrian crisis was greatly impacting food security, especially in the poorer Beqa'a and Northern Lebanon region, where the situation is more critical because international aid has been inadequate for the scale of the crisis.
Water mismanagement
"Governments in both countries face serious threats to national security and have deeply divided populations."
In Egypt, the report blames political mismanagement of irrigation infrastructure on the water shortages, focusing on three regions: Shubra Qubala, Imam Malek and Abu Minqar. Several farmers in all three villages had resorted to private well drilling in order to obtain sufficient water for irrigation. However, less than 10% of farmers could afford to dig their own wells.
Unreliable water supply from the Nile was also causing farmers to over-irrigate their land on days when water is available.
In both countries, climate change challenges, such as greater seasonal temperature variability, more extreme weather events and rising sea levels, were all compounded by financial constraints, the report adds.
"Governments in both countries face serious threats to national security and have deeply divided populations. Their current priorities are not climate change or population growth, but regime stability and, especially for Egypt, external legitimacy," says Mason
The report recommends that more efficient irrigation infrastructure and practices be introduced in Egypt and Lebanon. In Egypt it suggests introducing an obligatory set-crop rotation per area in response to water scarcity and climate change impacts, such as subsides on fertilizers or assistance with crop marketing.
Farmers in Lebanon should be exposed to awareness campaigns to educate them about the impacts and responses to climate change.
"Growing physical scarcity can be overcome by economic and human development, using more 'virtual water' [water embedded in imported crops] and adopting efficient water irrigation systems - as recommended in the report," Mason says.
"[However] I think the report could have acknowledged even more the major international assistance needed both to meet immediate humanitarian needs and also strengthen water infrastructure in northeastern Lebanon."
doi:10.1038/nmiddleeast.2014.99
---