News
Call for salt-reduction policies
Published online 11 February 2014
Study into salt intake reduction campaigns in four Eastern Mediterranean countries shows they can save lives and money.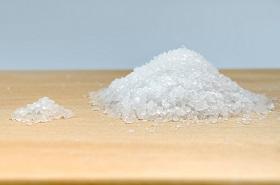 A new study evaluating salt consumption and diets in Tunisia, Palestine, Syria and Turkey suggests that measures to reduce salt intake will improve public health.
The Eastern Mediterranean Region (EMR) has been identified as a hotspot for cardiovascular and coronary heart diseases, and projections predict a continuous upward trend in the next decade unless efficient health and nutrition measures are implemented. In 2011, the UN high-level meeting on non-communicable diseases said that population-based policies focusing on some key modifiable risk factors, including salt, are needed.
The study, published in PLOS ONE, used methodology previously applied to high-income countries, which includes private and public sectors and health costs, to middle-income countries.
The countries studied all had high dietary salt intake. While the maximum daily amount of salt prescribed by WHO is 5g daily per person, Tunisia, Syria and Palestine's consumption was at 14g. Turkey spikes at 18g, almost four times the recommended maximum dose.
Salt intake increases blood pressure levels – the leading contributor to cardiovascular disease mortality.
Helen Mason, a health economist at the Yunus Center for Social Business and Health at Glasgow Caledonian University and co-author of the study hopes that providing evidence "specifically based on the epidemiology of the country and data on the costs to the healthcare system will allow policymakers to make a more informed decision on strategies to reduce coronary heart disease."
The researchers evaluated the cost efficiency of three sets of policies: awareness campaigns to encourage individuals to reduce salt consumption; labelling salt content of packaged food and reformulation of salt content in processed foods; and introducing taxes for products with a high salt content.
Even small changes in major risk factors can have a big impact on health outcomes
In all four countries, each of the three policies was found to provide cost saving compared to taking no action at all. The researchers assess that a combination of the three policies would lead to a 30% reduction in salt intake, reducing CHD mortality and saving these countries US$235 million to US$1.3 billion in healthcare expenses.
Despite the study's theoretical approach, Jalila El Ati, head of studies and planning service at the Tunisian National Institute of Nutrition and Food Technology says "the results strongly support the case for a reduction in salt intake across the population to lower the financial and social burden of cardiovascular disease."
Although there are no comprehensive policies to reduce population salt intake in the Eastern Mediterranean countries, some health promotion campaigns which include recommendations to reduce salt intake have taken place.
In February 2013, Tunisia passed a national strategy for the prevention and fight against obesity, which included reducing salt, sugar and fatty acids intake by introducing legislation to promote informative labeling on food products.
The government is also considering coming up with a recognizable logo on healthy products as an incentive to the food industry to manufacture healthier products.
When questioned about the reality of significantly reducing CHD events only through lowering salt intake without including other risk factors such as lack of physical activity and fat intake, Mason said that "even small changes in major risk factors can have a big impact on health outcomes if they occur across the entire population."
She stresses, however, that impact would be felt only if there were no increases in other risk factors such as rising smoking levels or consumption of trans-fats.
doi:10.1038/nmiddleeast.2014.42
---
Mason, H. et al. A Cost Effectiveness Analysis of Salt Reduction Policies to Reduce Coronary Heart Disease in Four Eastern Mediterranean Countries. PLOS ONE (2014) doi:10.1371/journal.pone.0084445