News
Syrian children die from tainted measles vaccine
Published online 17 September 2014
Dozens of Syrian children in Idlib have died after receiving a vaccine, raising concerns for future vaccination campaigns amid suggestions the doses may have been wrongly mixed.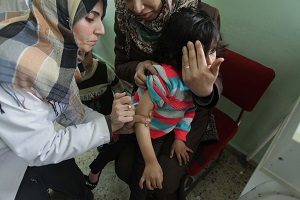 At least 15 children have died in opposition-held Syria after being administered measles rubella (MR) vaccines that were incorrectly formulated, according to a preliminary report into the tragedy.
A major vaccination campaign, which began on Monday in the northeastern province of Idlib, was suspended on Tuesday evening amid suggestions the vaccines may have been sabotaged by the Syrian regime.
However, it has now been found the vaccine was mixed with Atracurium, a muscle relaxant used in surgery.
"While someone was preparing the vaccines, instead of putting the regular diluent for the vials, he mixed it with Atracurium, which has the same colour bottle and same patch on it," said Khaled Almilaji, health department manager at the Assistance and Coordination Unit, which was instrumental in organising the vaccination programme. 
"An investigation is under way to specify who this person was. Was it intentional or was it a human mistake? The investigation is also looking at the vaccinators themselves. Were they also responsible?"
The victims were reportedly administered 5mg of the drug, fatal when given to infants. Older children have a greater chance of surviving due to their greater mass, a statement by the investigation board said.
Doctors said children began displaying symptoms, mainly convulsing, only 10 minutes after receiving the vaccine. Children were also treated for anaphylactic shock.
"Many were given a symptomatic treatment, dexamethasone and atropine, and are currently stable. Some of the children are still being treated in the ICU," said Zaher Sahloul, president of the Syrian American Medical Association. 
There are conflicting reports on the current death toll, with some saying it could be as high as 36.
Health workers said the vaccines came from UNICEF and the same batch had been used on thousands of other children over the previous days without incident. The vaccines that caused the deaths came from the same health facility in Jarjanaz. 
"More than 15,000 children were vaccinated in Deir ez-Zor with the same batch of vaccines and we had no problems," Almilaji said.
Public health practitioner Annie Sparrow, said the tragedy would have serious ramifications for ongoing vaccination campaigns throughout Syria.
She said there was no chance the fatal effects of the vaccines were because they were out of date or incorrectly stored.
"It's a catastrophe. It's hard to see any parent letting their child be vaccinated in Syria ever again."  
The Syrian Opposition Coalition, which had been administering the programme, said it had ceased the campaign, while the opposition health ministry has resigned.
Blood samples have been sent to Turkey for analysis. 
Sona Bari, a spokeswoman for the World Health Organisation (WHO), said it had sent experts to assist with the investigation.
The vaccination campaign in Deir ez-Zor has also been suspended, the WHO said.
Update: Story updated based on preliminary reports into the incident.
doi:10.1038/nmiddleeast.2014.226
---