Features
Bucking the trend: New report shows Middle East lagging in HIV effort
Published online 1 December 2013
Stigma and a lack of awareness about the virus mean many carriers are ignorant of their condition, while access to testing and treatment is far from adequate, report says.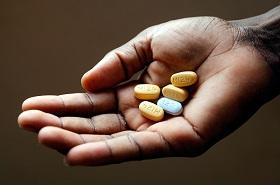 The Middle East is defying a worldwide trend of declining numbers of HIV infections as social stigma and limited access to testing and anti-retroviral therapy (ART) thwart efforts to combat the virus.
While the number of people becoming infected with the virus has slowed worldwide, along with associated deaths, the Middle East has experienced an increase. In 2012, 347,000 people in the region were HIV positive – a 127% increase over the 2001 figure.
A new report from the World Health Organisation (WHO) and the Joint United Nations Programme on HIV/AIDS (UNAIDS) estimates about 80% of people living with HIV in the region are not aware they are carrying the virus. The report urges health authorities to prioritise testing and treatment access in the Middle East and North Africa which, only reaching 10% of those needing treatment, is by far the lowest access rate in the world.
"Infections are rising because of the lack of an appropriate response from the national stakeholders," says Zied Mhirsi, chair of the Global Network of Researchers on HIV/AIDS in the Middle East and North Africa.
Mhirsi says governments in the region have not invested enough in healthcare workers trained in HIV management and treatment. He adds that fear of discrimination also deters people from getting tested.
Ali Feizzadeh, regional strategic information adviser at UNAIDS Middle East and North Africa, reiterates Mhirsi's point and says even once people overcome the stigma of testing, poor access to counselling and a lack of information about available options means that people are not being treated effectively.
"However, availability of services is also very low in the region; per capita, the region has the lowest number of HIV testing facilities of any region."
HIV is not a death sentence. In a few years we will look at it like diabetes or hypertension.
The WHO-UNAIDS report recommends same-day HIV test results be made available and calls for bold media campaigns to counter stigmatisation. It says that to reverse the increase in infections, HIV health care should not cost patients and diagnosis should form part of treatment and retention of care.
The report recommends that all countries adopt simplified ART regimens to boost rates of treatment, including implementing a single one-pill, once-daily regimen, along with WHO guidelines.
The report also gives advice on how public health authorities should respond when they exhaust ART drug supplies – a problem experienced by many countries in the region.
While data on the frequency of ART drug stock-outs is not available for all countries, in 2008-2009, 92% of antiretroviral-dispensing clinics experienced stock-outs in Djibouti, 20% in Iran and there were also shortages in Lebanon.
The report suggests an increase in the use of generic drugs as temporary alternatives, along with bulk purchasing and investment to build regional pharmaceutical manufacturing capacity.
The report also said says that laboratory services should be expanded and improved to monitor response to treatment, including CD4 testing and viral load monitoring. "To achieve lasting viral suppression under lifelong ART, countries must ensure reliable, uninterrupted treatment supported by quality laboratory monitoring," the report says.
Mhirsi, who is also the president of the Tunisian Center for Public Health, adds, "HIV is not a death sentence. In a few years we will look at it like diabetes or hypertension."
doi:10.1038/nmiddleeast.2013.232
---
Ending the HIV treatment crisis. World Health Organization (2013) http://applications.emro.who.int/dsaf/EmroPub2013EN_1527.pdf