Features
HIV and AIDS: The state of the epidemic
Published online 1 December 2013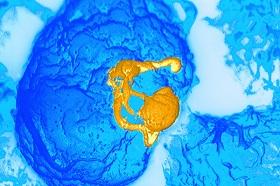 Historically, the Middle East and North Africa had the lowest HIV prevalence rate, but the continuing spread of the virus could change this status soon. Transmission rates are at an all-time high, while the global trend is downward; there is a lack of awareness and access to treatment is hampered by social stigma and anachronistic legislation that criminalises certain behaviours – further alienating and isolating many at-risk groups.
It is still difficult to track HIV infection trends across the region. Of MENA's 23 countries, only four had adequate surveillance systems to allow proper assessment of the epidemic, while the extent of incidence of the virus in populations most at risk is still largely unknown in 10 countries. Most countries lack basic data sources to help researchers, leaving the job to NGO workers and policy lobbyists, who can only estimate patterns of infection and the effectiveness of treatment1.
Today, World Aids Day, marks a celebration of global efforts against HIV — and despite regional setbacks, some MENA countries deserve praise for their laudable efforts against HIV/AIDS.
In the Arab world, Lebanon, Morocco, Jordan, Tunisia and Syria explicitly support a harm reduction approach to drug use as part of an official strategy to reduce HIV transmission. The aim is to try to reduce damage caused by controversial practices rather than eliminating them.
Despite progress in some countries, worrying trends persist in others. According to a new report from the World Health Organisation and the Joint United Nations Programme on HIV/AIDS (UNAIDS) about 80% of people living with HIV/AIDS in the region are not aware they are carrying the virus, and 85% of those in progressive stages of infection are not receiving treatment.
International and local agencies working in the region have come a long way, but are still facing significant challenges. As Alex Smolak, a researcher, opines, integrating Western-based polices into this region's framework is seen by some as an affront to its conservative and religious identity. Smolak recommends possible solutions, including cultural sensitivity when drawing out region-specific policies, following in the footsteps of Muslim-dominated countries like Iran and Malaysia.
And Smolak notes that the stakes are high since there's evidence that HIV will continue to spread to the general population if nothing changes — an assertion that researchers Laith Abu Raddad and co reiterate.
There are reasons to believe that, under the surface, HIV epidemiology has witnessed a small evolution, they add. The extent of the HIV epidemic in the region is now undeniable, and governments – some reluctantly and others readily – are beginning to address the problem. Effective measures to deal with HIV prone populations are being put in place in some countries, if only to curb spread to the rest of population.
Just as pivotal to halting the spread is the culture of HIV-related practices, the stigma and shame surrounding them, and the outdated fears about the prognosis for those infected. Overcoming these depends not only on policymakers, but also on at-risk communities and healthcare workers on the ground who have a great need for education and empowerment, perhaps in equal measure.
Features
A regional picture: MENA's HIV map
Evidence should form the basis of HIV policies in MENA
Managing HIV risk in the Arab world
Bucking the trend: New report shows Middle East lagging in HIV effort
HIV prevention policy in the Middle East and North Africa: Entangled dilemmas
News
UN report highlights rising rates of HIV in the Middle East
Attention drawn to epidemic of HIV in the Arab world
Research highlights
doi:10.1038/nmiddleeast.2013.228
---