Research Highlights
Plant's flowering gene linked to salt tolerance
Published online 10 February 2013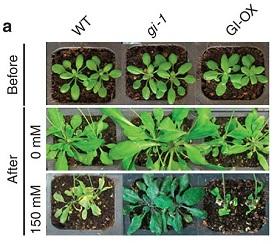 The saltiness of soil is a major impediment to growing crops in many areas, because the sodium in the salt inhibits growth. Now a team of researchers have manipulated the genes of the flowering plant Arabidopsis — a relative of the cabbage and mustard plants — to improve salt tolerance1, publishing their report in Nature Communications.
All plants carry the GIGANTEA gene, which controls one of several mechanisms that can trigger flowering as the plant matures. When plant biologist and crop scientist Hans Bohnert and colleagues deleted the GIGANTEA gene from young Arabidopsis plants, flowering was delayed as expected — but surprisingly the plant became more tolerant to salt.
"Usually salt kills such young plants, but in the absence of the GIGANTEA gene these continued to grow even bigger green leaves when salt was added," says Bohnert, who is jointly affiliated with King Abdulaziz University in Jeddah, Saudi Arabia, Gyeongsang National University, Jinju, South Korea, and the University of Illinois at Urbana-Champiagn, Illinois.
The team discovered that removing the GIGANTEA gene activates a more efficient mechanism for pumping sodium out of the plants' cells. This pumping system involves three genes and their proteins, dubbed SOS proteins. By carrying out a protein analysis, the team showed that GIGANTEA binds to one of the SOS proteins, in turn inhibiting the SOS pathway.
"The expectation is that removing or genetically or transgenically manipulating the expression and presence of the GIGANTEA gene will allow crops to grow in salty soils, but this will have to be investigated," says Bohnert.
doi:10.1038/nmiddleeast.2013.21
---