News
MERS in Mecca?
Published online 28 July 2013
As millions of Muslims plan their pilgrimage to Mecca, health officials have dampened fears about the rampant spread of a coronavirus first discovered in Saudi Arabia.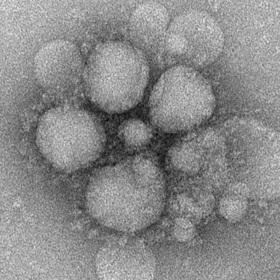 With the annual Haj season on the horizon, the World Health Organization (WHO) has deemed that the recent Middle East Respiratory Syndrome coronavirus (MERS-CoV) outbreak does not warrant the status of an international public health emergency.
Amid fears that the MERS-CoV outbreak might escalate to a pandemic of similar scale to the SARS virus of 2003, WHO's International Health Regulations Emergency Committee met twice this month.
Members of the committee unanimously agreed last week that the MERS-CoV outbreak does not meet the conditions for a public health emergency of international concern.
MERS-CoV was first identified in Saudi Arabia in September 2012, and has since been reported in Jordan, Qatar, the United Arab Emirates, France, Germany, the United Kingdom, Italy and Tunisia.
The latest sufferer, recently reported by the Saudi Arabian Ministry of Health, is a 66-year-old man from the southwestern province of Asir, who is said to be in a stable condition. The case brings the overall number of laboratory-confirmed incidents to 80, of which 45 have been fatal.
With 66 of the documented cases – and 38 of the deaths –occurring in Saudi Arabia, there were fears that the millions of Muslim pilgrims converging on Mecca in October could provide ideal conditions for the spread of the virus. One of the defining features of a pandemic is sustained human-to-human transmission. But, while the virus can be transmitted from one person to another, it is still not clear whether transmission is sustained in the community, the WHO says on its website.
Bats origin
I don't think anything more than common sense procedures are needed at the present time.
According to the Coronavirus Study Group, the few epidemiological data available suggest that MERS-CoV primarily infects animals, that human-to-human transmission is limited, and that it should not yet be categorized as a human virus.
In recent announcement published in the Journal of Virology, the researchers report that bats are likely to be the natural host, and that a single variant may have crossed over to an unidentified intermediate animal host, before moving into the human population.
But Ian Jones, a virologist at the University of Reading, says he doesn't currently see direct evidence of the role of an intermediate animal in the MERS-CoV spread. "The infection may come directly from bats, by contamination of human foodstuffs by bat droppings, urine, or saliva," he says.
He adds that there are parallels between the MERS outbreak and the outbreak of a bat virus called Nipah virus in Bangladesh. Nipah is transmitted directly to humans, who become infected by eating contaminated food.
Poor adaptation to humans
While MERS is highly virulent with a high death rate in documented cases, it currently appears to be poorly transmitted. However, it could acquire mutations in the spike protein, a component of the viral envelope that interacts with host cells, and these could increase its transmissibility to and between humans.
"The genomic data available indicate that there's not a huge amount of change in the virus [and] there doesn't seem to be any indication of the virus adapting to grow in humans," says Jones. But these data are currently very limited – the overall number of cases is still very small, and researchers have only sequenced five viral genomes so far.
Jones says that it is important to further characterise the MERS-CoV genome to determine how it differs from SARS, and the likelihood of it adapting to grow more efficiently in humans. The WHO reports there is a change in the pattern of infection, with recent cases involving younger, female patients, who exhibit less severe symptoms. Other cases have been completely devoid of symptoms, raising the possibility that there are many undetected mild cases.
Based on his experience Jones believes that MERS-CoV is "not likely" to reach pandemic proportions, and that it does not pose a specific threat during the pilgrimage to Mecca. It is related to the virus that causes the common cold and can, he says, be contained by simple hygiene.
"There doesn't seem to be a concentration of incidences in the region near Mecca, and I don't think anything more than common sense procedures are needed at the present time. Wash your hands regularly, and be suspicious of foodstuffs that don't appear to be clean."
doi:10.1038/nmiddleeast.2013.113
---
de Groot, R.J et al. Middle East Respiratory Syndrome Coronavirus (MERS-CoV): Announcement of the Coronavirus Study Group. Journal of Virology (2013) doi:10.1128/JVI.01244-13