News
Ancient rock art vulnerable to mining
Published online 13 May 2012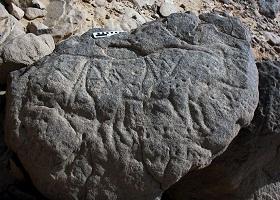 Mining activities in Egypt may be jeopardizing significant rock art which pre-dates any other in North Africa.
The images, which were discovered in 2006 by a team of researchers from the Supreme Council of Antiquities (SCA), are from the late Palaeolithic era. More than 100 drawings were found in Wadi Abu Subeira near Aswan. They are comparable to images previously discovered at the site of Qurta and el-Hosh near Kom Ombo, also near Aswan, by a Belgian team headed by Dirk Huyge of the Royal Museums of Art and History in Brussels. The vulnerable art is chronologically and aesthetically comparable to the famous cave paintings at Lascaux in France and Altamira in Spain.
While all three areas feature numerous representations of aurochs, and aurochs, Wadi Abu Subeira has pictures of African wild dogs and a life-size drawing of a Nubian ibex. Wadi Abu Subeira also has much more recent rock art imagery from the Predynastic era - dating back to 3,000-4,000 BC.
Using optically stimulated luminescence, a technique used to date minerals, the Belgian team working at Qurta found the drawings to be at least 15,000 years old, making them the third oldest in Africa, after 26,000–year-old stone plaques in Namibia and complex geometrical engravings in South Africa which have been dated at 75,000 – 100,000 years old.
The images at Wadi Abu Subeira were discovered by Adel El-Kelany, an Egyptologist at SCA, and his colleagues when they surveyed the area to regulate clay mining near the archaeological sites. The experts noted that the integrity of the drawings would not be compromised by clay mining, but are gravely concerned about the recent exploitation of iron oxide mines which they say are particularly dangerous to archaeological art.
"The clay mines were not very dangerous to the the images, but of course destroy the landscape around them. They have an opening of about 50 m2 at the surface. Miners then dig down to the geological layer desired and mine there, leaving the surface intact," explains El-Kelany. "To reduce cost, the iron oxide is mined by an open cast process, which completely removes everything from the surface down to the desired layer."
Huyge and Per Storemyr, a conservation scientist, spoke of probable links with the drawings at European sites.
"Can one speak of direct influence or cultural exchange over such a long distance? It is not as improbable as it seems," says Storemyr. "Finds of Pleistocene rock art in southern Italy and Sicily bear analogies to the Egyptian rock art. In northern Libya, near the coast, a cave site is known with similar naturalistic images of aurochs."
The distance between Sicily and Tunisia is about 140 km. "Considering the fact that the level of the Mediterranean Sea at the time of the last Ice Age was at least 100 m lower than it is today, it cannot be excluded that Palaeolithic people established an intercontinental exchange of iconographic and symbolic concepts," says Huyge. "There is no reason to deny modern Homo sapiens the capacity to cross the Mediterranean from Europe to Africa or the other way around."
Mining activities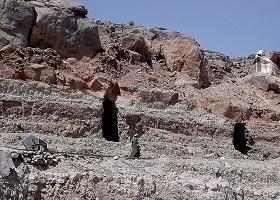 The miners are aware of the existence of the rock art and according to El-Kelany, both the Egyptian Mineral Resource Authority and the private mining companies involved have been cooperative and are willing to avoid any sites he marks on a map for them. The immediate problem lies in lack of funding to survey the area.
"I have sent to SCA in Cairo but they have refused to issue any funding. They are not interested. At the moment, I only need LE 6,000 (US$1,000) to hire a car for 20 days to survey the area" explains El-Kelany. He says the barriers are not only financial, but also a bureaucratic maze in place that he has to maneuver to get any work done.
Some mining companies have made cars available to El-Kelany for two or three days to survey the area they are about to mine, but that is insufficient time for a comprehensive survey that does not miss any sites.
"Aswan and its surrounding areas has always been the main source of minerals for Egypt, we cannot halt economic development for the sake of the findings, but we cannot allow unregulated mining either," says Mohamed El-Bailey, president of the Upper Egypt sector of SCA. "We restrict mining in the rock art areas, and I am pushing to have my department provide a car for Adel and his team to be able to identify more rock art sites."
A blog post by Storemeyr brought attention to El-Kelany's long bureaucratic battles. "It is unfortunate I have to turn to the media in order to get attention but don't know where else to go," says El-Kelany.
Storemyr adds that perhaps the attention will create the awareness necessary for people to realise that the images are unique and should be preserved at any rate. "Many similar sites in Europe are on UNESCO's World Heritage List and the images at Wadi Abu Subeira, Qurta and el-Hosh certainly deserve a place at the list too."
doi:10.1038/nmiddleeast.2012.73
---