News
Nature Arabic Edition launches
Published online 18 October 2012
News, comments and summaries of all research published in Nature can now be read in Arabic in the new Nature Arabic Edition.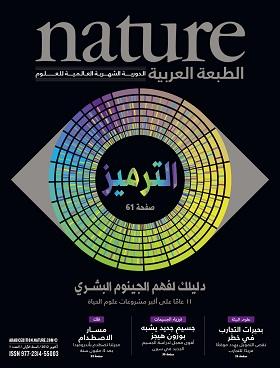 The first issue of Nature Arabic Edition, an Arabic translation of Nature, has been released. The monthly print version is now available to 10,000 subscribers in the Arabic-speaking Middle East while the website, which is updated weekly, is freely available for all.
Nature Arabic Edition provides Arabic translations of the scientific news and commentary from Nature, as well as summaries of all the research papers from the world's leading multidisciplinary journal. The project is sponsored by King Abdulaziz City for Science and Technology (KACST), Saudi Arabia.
"I think that Nature Arabic Edition will inspire and encourage young researchers in the Arab world to excel so they can one day be among the researchers publishing in Nature," says Magdy Said, the chief editor of the new magazine. "It will also promote a general interest in science and innovation in the region, which are pivotal for the renaissance we are hoping for."
KACST has been promoting science in the Arab world by making it more accessible to readers. "Arabic speakers now have free access to the latest developments in science and technology, in their native language, in hope that the coming generations will have a deeper connection with and appreciation for science, technology and innovation," said Mohammed Al-Suwaiyel, KACST president.
Said believes the new monthly magazine will also help science journalists in the region stay abreast of the latest global news since it would be easier to do so in Arabic. "By bypassing the language barrier and having sound science in their hands, they will produce richer and better stories for their own media outlets, in turn increasing the quality of science journalism offered to readers."
"Many of the foundations of modern science were laid in the 'golden age' of Arabic science," said Steven Inchcoombe, managing director of Nature Publishing Group (NPG). "We are seeing a new golden age for science in the Gulf, thanks to organizations such as KACST who are supporting science in the Kingdom of Saudi Arabia and throughout the Arabic speaking world."
Challenges
Creating an Arabic edition of the English magazine brought its own set of challenges, according to Said. "The biggest obstacle was finding science translators who had a sound understanding of the science across various disciplines and good understanding of both English and Arabic. Translators who excel in all three traits are a rare breed."
Designing the magazine in Arabic, which flows right-to-left, was also tricky. "This gets particularly hard when dealing with figures and tables," says Mohamed Ashour, Nature Arabic Edition's art director. "Arabic letters are very different in form from English letters. They have lots of curves and additional structures to letters which replace vowels in English. We wanted to produce a proper Arabic magazine while maintaining the feel and form of the original magazine."
Universities and research institutes across the Arabic-speaking Middle East have received copies of the October issue and will have subsequent issues delivered monthly.
Nature Arabic Edition is an independent project from Nature Middle East, which features news and research summaries in English and Arabic focusing on the Arabic-speaking Middle East.
doi:10.1038/nmiddleeast.2012.149
---