News
UAE to build nuclear reactor
Published online 7 August 2012
The United Arab Emirates is set to be the first Arab country to build a nuclear power plant after approval from the country's nuclear regulator and securing a supply of uranium.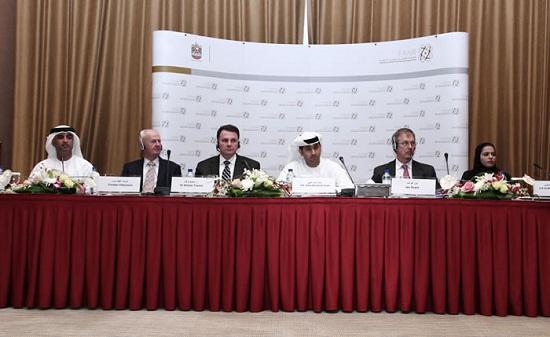 On 18 July, the United Arab Emirates (UAE) obtained approval from the Federal Authority for Nuclear Regulation (FANR), the country's nuclear regulator, to begin building its first nuclear power plant. The Arab country later signed an agreement with Australia on 31 July to import uranium.
According to the deal, Australia will stop exporting uranium to the UAE if it starts to enrich uranium, shares it to a third party or plans to develop nuclear weapons.
"We will continue to be conscious of our responsibility that nuclear power in the UAE is used safely, securely and only for peaceful purposes," said William Travers, director general of FANR, in a press conference held on 18 July.
Four new nuclear reactors are planned at a cost of US$20 billion, with an output of 1,400 megawatts of electricity each. The first of the power plants, which will be built by a South Korean consortium led by Korea Electric Power Corp should be up and running by 2017.
Currently, two reactors have been approved and will be built in Barakah, a desert located to the west of the capital Abu Dhabi. It has been 25 years since any country has joined the ranks of nuclear energy countries, which stands at 31 countries.
"Our comprehensive review of the construction licence application was carried out by more than 200 technical experts over a period of 18 months," said Travers. The reviewers scrutinised issues ranging from the location of the facility to its design and safeguards in place.
According to the UAE government, the country's annual electricity needs will rise by 9% to 40,000 megawatts by 2020, more than twice what it generates today.
Although Egypt and Jordan already have nuclear programmes, neither have broken ground on a new reactor. Fouad Al-Musawi, head of the Iraqi Atomic Energy Commission (IAEC) and deputy minister of science and technology in Iraq, says this makes the UAE a later-comer but a pioneer in the region. "Building nuclear reactors to produce electricity is an inevitable choice for Arab states that still depend primarily on oil, a resource that will not last for long."
doi:10.1038/nmiddleeast.2012.109
---