News
Qat chewing adds to coronary woes
Published online 23 January 2012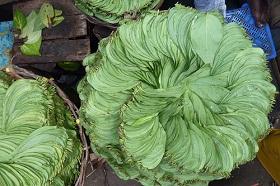 Chewing the qat plant, a common habitual drug prevalent in Yemen and parts of East Africa, increases the risk of recurrent ischemia, heart failure, stroke and death in people with heart diseases.
Research published in the journal Circulation has found that qat chewers are more likely to die following admission to hospital than those in hospital who refrain from chewing the stimulant plant1. This risk of death continues even after leaving hospital, with nearly twice as many qat chewers dying (19%) within a year compared to non-users,
"There were delays in seeking medical care in qat chewers when they had heart attacks, probably because of the analgesic effects of qat," says Waleed Mohsen, the lead author of the study. "They usually had a more serious and risky type of myocardial infarction."
Qat is a social drug in Yemen, where people often gather for afternoon or evenings for qat picnics. Its active agent is cathinone, which is structurally and functionally similar to amphetamine, although they act on different parts of the brain.
The plant's leaves must be chewed fresh for full effect, since cathinone degrades at room temperature. The drug induces feelings of euphoria, hyperactivity, anxiety, elevated blood pressure and manic behaviour2.
Cathinone can trigger coronary spasms, increasing coagulation and hurt the heart muscle, explains Mohsen. "Many researchers believe that a coronary spasm is the major cause of heart disease due to qat, however." This is similar to other compounds, such as amphetamine and cocaine.
Over 7,000 people with acute coronary syndrome were enrolled at 65 hospitals across Saudi Arabia, Bahrain, Yemen, Qatar, United Arab Emirates and Oman. The vast majority of the 1,408 qat chewers enrolled in the study were Yemeni, where qat chewing is legal and socially acceptable.
Widespread unhealthy habit
Yemen is one of the world's least developed countries and the poorest in the study. While the researchers determined several expected reasons for the increased strokes among qat chewers, "poor medical care might be an additive factor," suggests Mohsen, though one they did not account for in the study.
While qat chewers were more likely to develop strokes, they were less likely to have risk factors for cardiovascular diseases, such as diabetes mellitus, hypertension and hyperlipidemia. The increased risk of stroke was also more prevalent among men than women.
"We do not have a definite explanation for this but male qat chewers might use it in larger quantities and for longer periods of time," suggests Mohsen.
Besides the increased risk of heart attack, qat use is linked to liver diseases, gastrointestinal diseases and an increase in cancer incidences.
Qat chewing has slowly spread from the Arabian Peninsula, reaching far-flung places as Western Europe and the United States. According to the study's authors, 7,000 kg of qat is smuggled into Britain each week through Heathrow Airport.
"Awareness of the negative impact of qat chewing on health and social life is warranted before it becomes endemic," said Jassim Al Suwaidi, a cardiologist at Hamad General Hospital, Doha, and co-author of the study.
doi:10.1038/nmiddleeast.2012.1
---
Ali, W.M et al. Acute Coronary Syndrome and Khat Herbal Amphetamine Use. Circulation (2011) doi:10.1161/circulationaha.111.039768
Corkery, J.M et al. Overview of literature and information on "khat-related" mortality: a call for recognition of the issue and further research. Ann Ist Super Sanità (2011) doi: 10.4415/ann1104_17