News
Scientists join protests on streets of Cairo to call for political reform
Published online 2 February 2011
Nature Middle East was on the streets of Cairo to listen to the demands and hopes of scientists protesting against President Mubarak's regime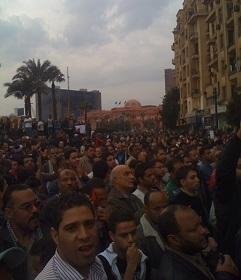 Anti-Mubarak protests continued into their eighth day across Egypt yesterday culminating in mass demonstrations in Egypt's three main cities of Cairo, Alexandria and Suez. While the academic community did not kick-start the popular uprising, academics joined the ranks of protesters on the streets to demand political reform and an end to President Mubarak's three decades in power.
Several senior academics took to the streets of Cairo to have their voices heard. Nature Middle East was on the ground to hear what they had to say on the state of science under Mubarak's regime and what hopes they have for science under any new government.
Mahmoud Saleh, chemist, Faculty of Science, Cairo University
I can easily say there is no proper scientific research in Egypt. This regime has killed the talents and capabilities of the Egyptian people whether scientific, social or political.
A whole generation of scientists moved overseas to Japan and the United States and other countries to continue their pursuit of knowledge to help this country. But when they returned they found that all paths to achieve this were blocked. They couldn't transfer their knowledge to others. This is part of the reason behind us revolting. We hope there will be a new, smarter government that respects the role of science and technology in the development of society.
Spending on scientific research was minimal. Good science research generates money, which should then be used to fund good research. This cycle is completely amiss in Egypt. The regime did not care for scientists.
How do you expect us to produce good, high quality research? A university professor who has been working for 20 years does not get more than 2000 Egyptian pounds (~340 USD) each month, which is barely enough to pay for food or my children's schooling. Scientific research is underfunded and we are hoping this will change.
Hani Dewedar, astronomer, Faculty of Science, Cairo University
Under this regime, the budget for scientific research was less than 0.7% of government spending. We need this to increase exponentially if our country is to develop. The scientists who left Egypt would then be able to return home, research would improve and our society would develop.
We have some very good astronomy research in the country, but there are no applications for them. There is supposedly a space agency in Egypt, but astronomers are hardly involved in it and unqualified people are leading this important institute.
University education needs serious reform. Firstly, the government needs to invest in faculties and provide a good environment for education to maximize the student experience. We want to link universities to the community and to industry. This would be of great benefit to the students and the education system as well as society in general.
Tahir Ahmed Yehia, agricultural scientist, Faculty of Agriculture, Cairo University
This regime has killed the talents and capabilities of the Egyptian people whether scientific, social or political
Scientists needs tools. This includes funding, proper equipment, good budgets for universities and laboratories. Sadly, however, these tools are lacking in Egypt andit is apparent the current regime does not believe in scientific research.
I received my PhD from Nottingham University in the UK in 1994. I saw the system in place in British universities and international universities in general. There is a clear, structured system so that the postgraduate student has a clear idea of how to get from A to Z. In Egypt, the whole process is completely unknown to the student. His or her masters degree might take four years or six years or even longer to complete.
Sadly, the lack of well-equipped laboratories and adequate funding is one of the major hurdles ahead for Egyptian students. That is why whenever they travel to a university in Germany or Japan or the UK or any other developed country, they perform with excellence and complete their research in record times. So the problem is not with the students, but with the system here in Egypt. These problems apply to both undergraduate and postgraduate students.
In this protest there is no distinction between university professors and students. We've all come out as Egyptians. There is no distinct age or social standard, we all have the same demands—a regime change for one that improves conditions for us all and tackles the problems we have faced for so long.
doi:10.1038/nmiddleeast.2011.9
---