News
Exhibition brings dinosaurs to life in Tunisia
Published online 19 June 2011
Tunisia turns to dinosaurs to boost interest in science.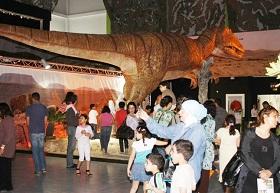 Dinosaurs once again roar in Tunisia, although rather than stalk prey, they are on display at the country's first ever dinosaur exhibition at the Tunis Science City (TSC).
"This exhibition is 100% made in Tunisia, from the early vision to the final product," says Khaled Ghedira, director of TSC. "It is the first completely home-grown science exhibition of its kind in Tunisia."
It took 18 months of research, planning, workshops and fabrication to curate the exhibition at TSC, and involved professors from the Higher Institute of Fine Arts in Tunis and the Higher Institute of Fine Arts in Kairouan, Tunisia.
With the trickery of robotics, sound effects and a little mood lighting, a motley crew of dinosaurs are brought to life. Carcharodontosaurus, Spinosaurus, Iguanodon, Jobaria and Afrovenator, which once roamed the Earth over different periods and ages, now occupy the same building.
Besides the models, the exhibition also houses some fossils, along with placards explaining where and when they were discovered and which dinosaurs they belong to.
The finding of dinosaur fossil, dated to 110-million-years agoI in the Sahara desert around 450 km south of Tunis, in March 2011, inspired the exhibitions name: the Saharan Dinosaurs exhibition. The fossil was taken to the University of Bologna, Italy, to study and determine its genus and will return later to Tunisia.
Science for the public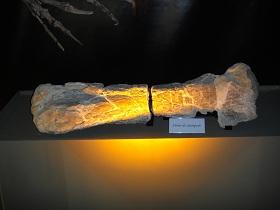 Since the ribbon was cut by Refaat Chaabouni, the Tunisian minister of higher education and scientific research, on 24 May 2011, the exhibition has attracted families lured by the promise of coming eye-to-eye with life-like dinosaurs.
"Just this last Sunday, we had over 4,000 visitors to the exhibition which is the highest since we launched," said Hichem Ben Yahia, the principle curator at TSC. The numbers have decreased to around 500 visitors a day but he expects visitor numbers to increase again during school holidays later this month.
"We usually bring foreign exhibitions to the TSC, but when we decided to create our own this year, we chose dinosaurs because they are always popular in science museums all around the world," said Slimane Sedrette, a senior scientist at TSC.
Hasna Sghair, who brought her three children to the exhibition, said they found the special effects the most fascinating part of the visit. "Most visitors were families taking their children to enjoy the exhibition. There were hardly any adults alone."
"I enjoyed how they had placards next to each dinosaur explaining when they were alive, where, the kind of diet they ate, and other information," she added.
There are screens teaching visitors how the different dinosaurs lived and how the models were made. TSC also offers guided tours to certain groups of visitors such as school children.
The exhibition will run till August 2012 in TSC before a national tour of cities across Tunisia.
doi:10.1038/nmiddleeast.2011.72
---