News
Air pollution threatens health in Beirut
Published online 19 May 2011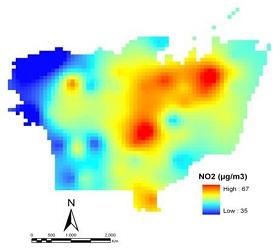 About 93% of Beirut's population is exposed to high levels of air pollution, according to a study by researchers at the American University of Beirut (AUB). Air pollution is a major environmental risk factor for poor health and causes about 2 million premature deaths worldwide each year.
The researchers presented the findings of a two-year study on air pollution at a seminar at AUB on 6 May. The study was carried out by the AUB and Saint Joseph University (USJ) in Beirut, in collaboration with the National Council for Scientific Research (CNRS). It involved collecting samples of air from various regions in Beirut between 2008 and 2010.
In 2010, across the city, the average concentration of nitrogen dioxide, a harmful air pollutant, was 58 micrograms per cubic metre of air. This exceeds the maximum average concentration recommended by the World Health Organization (WHO): 40 micrograms per cubic metre.
Nitrogen dioxide is produced by burning fossil fuels. Most of the nitrogen dioxide in cities is released from motor vehicles. Each car emits 1.6 tonnes of nitrogen dioxide per year. To offset the emissions from a single vehicle, at least 160 two-year-old trees would need to be planted each year. Lebanon has a large number of cars on its streets — the same number per capita as Japan, despite Japan covering an area that is roughly 36 times larger.
"In Beirut, as in many other overpopulated capitals, traffic is the main source of air pollution," said Najat Saliba, a chemist at AUB who led the study.
Saliba proposed imposing staggered working hours and encouraging car pooling and bicycle use to ease the traffic on the streets of Beirut. She also suggested promoting public transport and building electric train lines.
Such strategies have been successful elsewhere. Istanbul, one of the most polluted cities in the world in the 1980s, managed to improve air quality by improving its public transportation network and installing an electric tram system.
According to the researchers' findings, the average amount of airborne particulate matter, which in Beirut is created by dusty streets, wear and tear on tyres and incomplete combustion of fuel, is at least double that recommended in the WHO guidelines.
Breathing in large amounts of nitrogen dioxide and particulate matter increases the likelihood of respiratory problems. These pollutants can inflame the lining of the lungs and reduce immunity to lung infections. Pulmonologist Marie-Louise Coussa-Koniski, from Rizk Hospital in Beirut, warned that "the number of cases of asthma, rhino-sinusitis and interstitial lung disease in Lebanon has been rising significantly over the past decade". And the overall prevalence of asthma in Lebanon is at least 50% higher than that in Europe or the United States.
Such heavy pollution affects the cost of public health care. "The country could gain up to $16 million from lost work days and save up to $3.2 million in hospital visits annually if it would reduce its particulate matter by only 10 micrograms per cubic metre," said Jad Chaaban, an economist in AUB's Faculty of Agricultural and Food Sciences.
doi:10.1038/nmiddleeast.2011.60
---