News
Ulster University partners with Egyptian university for student exchanges
Published online 20 January 2011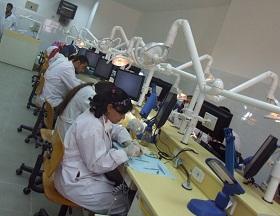 Nahda University (NUB) in Egypt has partnered with the University of Ulster in Northern Ireland to develop advanced research and teaching opportunities for pharmacy students and faculty.
The partnership will include staff and student exchange, research collaboration and degree validation between the two universities. Seddik Afifi, president of NUB and Hugh McKenna, dean of the Faculty of Life and Health Sciences at University of Ulster signed the agreement in early January 2011.
"The first research project that we will be working on together will focus on the applications of nanotechnology in the pharmaceutical industry," said Afifi.
David Young, a press officer at the University of Ulster, added that there will be opportunities for research collaboration for both undergraduate and postgraduate students.
Undergraduates studying in NUB will have a chance to travel to Ulster in their final year to participate in a short period of research. "Our collaboration will enable students to broaden their choice of projects, so that Egyptian students could very well be doing research that is ongoing in the Department of Pharmacy," added Paul McCarron, head of the department of pharmacy at the University of Ulster.
By having their degree validated by Ulster University, postgraduate Egyptian students at NUB may directly enroll for a Masters degree in pharmaceutical science. "Egyptian students will be able to benefit from the extensive research capacity in the school of biomedical sciences and may also apply for PhD studentships in [Ulster] University."
Mohammed Abu Ali, head of cultural affairs and missions at the Egyptian Ministry of High Education and Scientific Research said that partnerships between local universities and international ones served to improve the quality of education in Egypt.
"Our mission in the ministry is to make sure that the twinned university is up to the expected education quality standards," he added.
Nahda University has partnerships with other international universities, such as University of Texas in the United States. "We are also already engaged in a research project with Biberach University of Applied Sciences in Germany on sewage water treatment," said Afifi.
The University of Ulster also has several partnerships with Middle Eastern educational institutions. In January 2006 it signed a 10-year agreement with SAAD Nursing and Allied Health Science College in Saudi Arabia to support the growth and development of the nursing profession in the Gulf States. It also signed an agreement with the United Arab Emirates in December 2010 to develop a joint UAE/Ulster motorsport research centre.
doi:10.1038/nmiddleeast.2011.4
---