Features
Essam Sharaf: Science revolutionary
Published online 22 December 2011
An engineer was catapulted from Tahrir Square to Egypt's cabinet and fought to rebuild science.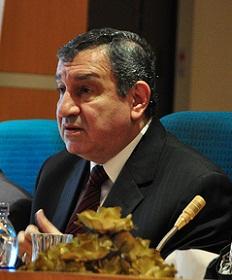 As academics joined the millions protesting in Egypt's streets this spring, the voice of one engineer soon began leading chants. Essam Sharaf was in the thick of demonstrations in January, and he became the first prime minister of a post-revolution cabinet in March — promoting science as a solution to the country's woes. But by November, he had resigned amid a second surge of popular protest.
The 59-year-old Sharaf was born in Egypt and earned degrees in engineering from Cairo University and Purdue University in West Lafayette, Indiana. By 2010, he was an academic engineer at Cairo University and a fierce critic of Egyptian President Hosni Mubarak's regime.
Sharaf's stance during the uprising made him popular with the young revolutionaries. He was high on their list of candidates to lead the new transition government, along with Nobel laureate Ahmed Zewail, a chemist from the California Institute of Technology in Pasadena. When Sharaf was chosen, hundreds of thousands of revolutionaries gathered to greet him in Tahrir Square. "If I can't bring the change you want, then I will return to the lines with you," he told them.
Once in office, Sharaf said that science could solve many of Egypt's dire developmental problems, ranging from water security to energy. His cabinet began drafting plans to improve the education system and, in June, he approved a long-standing proposal by Zewail to build a university of basic and applied research. "Countries do not move forward except with scientific research," said Sharaf at the launch of the project, to be called the Zewail City for Science and Technology. "Without question, he has been a visionary engineer," says Kumares Sinha, a professor of civil engineering at Purdue University who once supervised Sharaf. "Over the years he has been a strong advocate for science and engineering in the Arab world as a way to advance and reform the society."
But that success in advocating for science did not carry over to politics. Critics accused Sharaf's cabinet of weakness, believing that all real power lay in the hands of the military junta. When this discontent erupted into violent protests in November, Sharaf and his cabinet resigned. Elections took place in November for a new parliament, which should be in place early next year, and a presidential election will be held in June. For now, the future of science in Egypt is as uncertain as that of the reinvented country itself.
This article is republished with permission from Nature from the news feature 365 days: Nature's 10.
doi:10.1038/nmiddleeast.2011.170
---