News
Plastic waste big killer in Mediterranean Sea
Published online 5 February 2011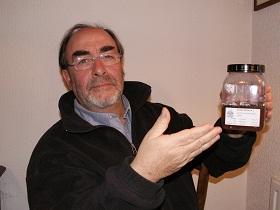 A biological expedition in the Mediterranean Sea estimates that over 250 billion microscopic pieces of plastic pollute the sea creating a serious problem for marine life after it enters the food chain.
Expedition Mediterranean EnDanger (MED), which was launched in 2010 and should continue into 2013, is analyzing samples taken from a depth of around 10 centimetres in the seawaters of the Mediterranean. They collected samples last year off the coasts of France, Spain and Italy which, through preliminary results, suggest that the bioaccumulation of plastic waste may be involved in the death of some 100,000 mammals, turtles and birds each year.
These pieces of mircoplastic, invisible to the naked eye, can be absorbed by certain species of planktons, which are the first building blocks of the marine ecosystem. The plastic inside planktons and krill ends up accumulating within larger fish higher up the food chain.
"We do not know the effect of this on human health so far since the studies are still in a preliminary stage but the danger is imminent for endangered marine life, especially mammals," said Bruno Dumontet, a marine biologist and leader of the expedition.
Microplastic wastes are often hard to remove during clean-up expeditions owing to their small size. "There is really nothing we can do to eliminate this danger. If we vapourize plastic waste it will still end up inside planktons," explained Dumontet. "That is why we need to put an end to this pollution through awareness campaigns and through stricter rules."
The southern Mediterranean
The mission will visit the waters off Morocco, Tunisia, Libya and Malta later this year. "In 2013 we'll conclude by visiting the south-eastern regions like Egypt, Lebanon and Syria. Only then will we have a complete analysis of all the waters of the Mediterranean Sea and be able put together a strong and detailed report about the current situation," he added.
Mustapha Belhadid, a marine biologist at the Institute of Marine Sciences and Coastal Management in Algeria who is involved in the research, thinks that the southern Mediterranean is less polluted than the northern regions. "We've analyzed the entire Algerian coast and found pollution was less than we expected. We're far from satisfied with the current status quo. I think the study from MED is extremely important especially since it has an awareness angle."
The MED expedition is working with environmental organizations in countries from North Africa, but it does not include any researchers from the region. "It's true that we started with a group of scientists from Europe but we will include two researchers from Algeria and Tunisia this year for the second part of our expedition," said Dumontet.
doi:10.1038/nmiddleeast.2011.10
---