News
KAUST awards new innovation grants
Published online 17 October 2010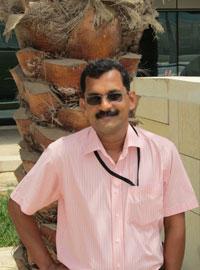 The first round of the King Abdullah University of Science and Technology (KAUST) Seed Fund Programme has awarded nearly 1 million USD to students and faculty members to help turn their ideas into lucrative businesses.
The eight winning recipients, four students and four faculty members or staff, will also receive extra funds from the university to cover administrative costs. The winning grants target a spectrum of industries, from agriculture and telecommunication to renewable energy.
Forests in the desert
Raju Thupran, a landscape engineer at KAUST, received a grant of 75,000 USD, with 97,000 USD on top for administrative costs, for his scheme to identify genes responsible for drought and disease resistance in date palms. He then plans to mass produce drought–resistant trees that can thrive with seawater irrigation and/or are resistant to red palm weevil, a pest that bores fatal holes in the trunk of the tree..
In April 2009, researchers at Weill Cornell Medical College in Qatar (WCMC-Q) mapped a draft version of the date palm genome unlocking many of its secrets, which could help Thupran's efforts.
"Thupran and his group at KAUST are undertaking an important but very difficult project to develop drought and disease resistant plants," said Joel Malek, director of the genomics laboratory in WCMC-Q. "The date palm is an excellent candidate fruit tree to develop for the growing needs of arid land countries."
Thupran plans to send out teams to find drought- and disease- resistant samples and collect offshoots to identify the genes responsible for these traits back in the laboratory.
"If Thupran can identify these trees and produce high-quality fruit from drought and disease resistant trees he will have achieved a major breakthrough well worth commercialization," added Malek. Coupled with genetic research, this can help develop a tree capable of radically reducing desertification in the region.
Red Sea registry
Marine science student Fahmi Machda and his team are taking their project to the sea. They plan to use their 54,784 USD to create the Red Sea Biogeographic information System (RBIS), a database of all marine life in the Red Sea, offering up-to-date maps, charts and visualizations. They aim to provide collaborative tools for researchers to work together online.
"RBIS sounds like a great idea. It may help us in our research in the Red Sea and allow us to see clearly what is happening beneath the sea," said Mahmoud Shedawa, chairman of the Environmental Protection Authority of Yemen. He hopes it can be a portal for experts across the region to network and exchange experiences.
The programme is currently accepting applications for the second round of grants through the KAUST portal. Successful applicants may receive up to 250,000 USD to develop their business plans, as well as the use of KAUST's resources, such as laboratories, offices and legal support.
doi:10.1038/nmiddleeast.2010.213
---