News
Algeria fails to lure back scientists
Published online 22 September 2010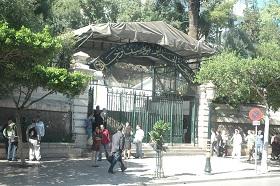 Attempts by the Algerian government to attract its home-grown scientists working overseas have had limited success, causing concern that moves to raise the country's science profile will fail.
In 2007, Algeria pledged 1% of GDP to scientific research1. In May this year, the government announced a 320 million USD two-year programme to fund 34 projects. However, most Algerian researchers declined to repatriate, preferring to participate from their current institutes.
"So far we have 800 Algerian scientists abroad who have joined the programme. About 100 of them expressed their desire to return, but talk about that is premature. We need some time to address all their requests and needs," said Bachir Sellami, director of the Programme of Research, Evaluation and Forecasting.
"We are worried because we currently have less than 18,000 science researchers in Algeria. That is why the return of Algerian researchers abroad will be pivotal for the success of the programme," he added.
Tahar Touam, a physicist at the Algerian Centre for Development of Advanced Technologies is among the few Algerian scientists who accepted the offer to work back home: "I have met several obstacles here, which is why I may leave Algeria again. The conditions are just not right for the return of Algerian scientists abroad."
Touam's experience in Ecole Polytechnique de Montreal, Canada, earned him an invitation from the Algerian government to return home. He was not promised full funding for all his research, but the government said they will provide all the science facilities he needs as well as help him settle back into Algeria. He returned over a year now, but has since received several job offers from other Arab and Western universities that he is considering.
"My experience and the degrees I earned qualify me to work as a director of science research, but they have refused this with no explanations," said Touam.
According to Hocine Khelfaoui, a senior researcher at the University Boumerdes in Algeria and associate professor in Université du Québec à Montréal, Canada, there are several serious problems facing science research in Algeria. The University of Algiers is among the poorest universities in the world, and is one of the most underfunded universities in Africa.
"All indicators show that the return of our scientists from abroad now is far-fetched, since the problems that made them leave in the first place are still here," says Khelfaoui, who blames a lack of political will to improve conditions for researchers.
"I think our focus today should be to put an end to the emigration of other experts. This can be achieved by offering better working conditions for them. I do not mean offering more money; it will be enough to offer them the respect they deserve and a margin of scientific freedom to pursue their endeavours," adds Khelfaoui.
doi:10.1038/nmiddleeast.2010.203
---