Features
Gaza software through hard times
Published online 29 July 2010
If necessity is the mother of invention, she is hard at work in Gaza, thanks to the Internet and cloud computing.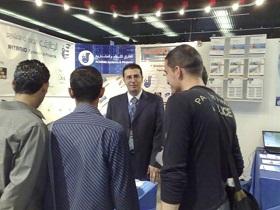 This tiny strip of land must cope with a choked economy, limited IT infrastructure and an ongoing blockade, which is preventing much needed equipment and raw materials from entering into Gaza. However, Gazan software developers and information and communications technologies (ICTs) companies are learning to bypass the Israeli and Egyptian blockade to export their services to richer, more developed countries.
"The infrastructure was so poor, the technology expensive and our resources so limited, it was really hard in the beginning," explains Khaled Abu Hasna, the general manager of Fusion, a Palestinian ICT company founded in 2002.
"Since we failed to attract investors, exporting our services became essential to survive."
According to a report from The Portland Trust, the ICT sector contributed approximately 5% to Palestinian GDP in 2008.
"There are some 30 companies in Gaza, with several hundred employees, mostly graduates from the Islamic University in Gaza and others who studied in Jordan, Egypt or Libya," explained Hasna. "Staff usually rely on the Internet to self-teach."
With limited resources and the harshest of business climates, Fusion developed the infrastructure for a wireless network that connects 250 United Nations Relief and Work Agency (UNRWA) –run schools with 200,000 students from all over the Gaza strip.
"The network has been running and updated for three years with no failure," Abu Hasna says proudly.
"Gaza needs only 750,000 USD to install WiMax access points and base stations to connect every home to the Internet cloud," says Abu Hasna, who has a Bachelor of Science degree in communications from University of Libya and a Masters in business administration (MBA) from Al-Azhar University in Gaza.
Fusion now also sells telecom services in Saudi Arabia, Dubai, Lebanon, Latvia, Pakistan and even Israel.
A window to the world
The Internet, mobile Internet and local innovation is flourishing.
"Software is among the rare things that we succeed in exporting. The Internet has been our only window to the world for more than three years," says Tarek Eslim, CEO of Al Tariq Systems & Projects, another software house defying the odds in Gaza.
"Under these harsh circumstances, we have a plan B for everything. During the Israeli war [in December 2008] I moved my offices to a relatively safer place and 30% of the staff continued working despite the bombing. We could not afford to lose our clients outside Gaza."
The staff at ICT companies managed to maintain Internet services from their homes during the Gaza War, which waged for 22 days. This helped information and news flow in and out of the region.
Due to the blockade, it is hard for staff to travel to seal deals with foreign companies."We have to rely on hiring [representatives] to meet our clients outside and this is costly," said Eslim. "Last year, I lost the chance of closing a big deal with Oman Petroleum Company because I was prevented from travelling to demonstrate the solution they wanted to buy."
Eslim works through two different Internet connections to minimize downtime. About a third of his running costs are spent keeping electricity generators running throughout the daily 8-hour power cut that the people of the Gaza Strip must endure due to damaged power plants and an embargo on fuel.
Nonetheless, Al Tariq Systems bounced back just a few months after the war ended. They built the web portal to the first e-learning international conference held in Riyadh, Saudi Arabia, which attracted more than 3,000 people from across the world in May 2009. In January this year, they submitted a proposal to the ministry of housing in Oman to develop new software to digitise their entire registry.
The 34-employee company also produced an Arabic short messaging service called "Rasel", which can send bulk phone messages in Arabic. It is being used by news agencies, universities and hospitals in the United Arab Emirates, Egypt and Libya. In February 2009, they developed the billing system used by Gaza's water utility.
Rapidly increasing Internet coverage
According to the Palestinian Central Office for Statistics, a third of Palestinians in Gaza and the West Bank have access to the Internet.
"However, paying EUR 20 [26 USD] per month for the service is expensive," added Abu Hasna. "We are working on providing faster and cheaper Internet access for people."
"Although equipment such as ADSL routers, WiMax infrastructure and wireless access points are limited in Gaza, the Internet, mobile Internet and local innovation is flourishing," Gisel Hiscock, the New Business Development - Europe Middle East & Africa Director at Google wrote on the Google Arabia Blog after a visit to Gaza last June.
On 16 July, the French Development Agency pledged nearly 650,000 USD to develop Gaza's ICT sector. This will partially finance projects, capacity building workshops and knowledge transfer activities.
Fusion plans to use this aid to develop a video streaming service for journalists, and the Gaza Phone Initiative, which will use the Internet to offer cheap international calls to residents of the Strip.
doi:10.1038/nmiddleeast.2010.182
---