Articles with authors from National Center for Gene Research (NCGR), CAS
The articles below include authors from National Center for Gene Research (NCGR), CAS. This list1 represents articles that were published within the last 12 months in Nature and/or Nature monthly research journals.
| Journal | Title | Corrected Count1 |
| --- | --- | --- |
Represents the corrected count by calculating a corrected point total for each paper from a given country or institution as a decimal fraction of one (up to a maximum of 1), by taking into account the percentage of authors of the paper from that country or institution. All authors are assumed to contribute equally to corrected count, and an author with multiple affiliations is assumed to be divided equally among those affiliations. When an author gives a "present address", "permanent address" or "current address" that affiliation is assumed to not be involved in that author's contribution to the paper and is not included in the corrected count.
Feedback and comments regarding the Nature Publishing Index Asia-Pacific can be sent to .
Nature Publishing Index China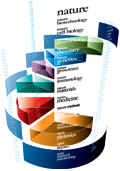 The Nature Publishing Index China ranks institutions according to the number of primary research articles they publish in Nature journals. Nature and its family of Nature-branded sister journals is world-renowned as the pre-eminent platform for publication of the very best international research, and it is fitting that this portfolio of high quality journals serve as a benchmark for research success and achievement.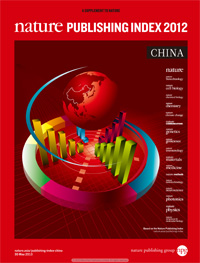 To see the data for January to December 2012, including results, tables, graphics and analyses, please go to the Nature Publishing Index 2012 China supplement and download the pdf.