About the Nature Publishing Index Asia-Pacific
We at Nature Publishing Group are delighted to present the Nature Publishing Index Asia-Pacific, which ranks institutions and countries in the Asia-Pacific region (including India and Australasia) according to the number of primary research articles they publish in Nature journals. Nature and its family of Nature-branded sister journals is world-renowned as the pre-eminent platform for publication of the very best international research, and it is fitting that this portfolio of high quality journals serve as a benchmark for research success and achievement.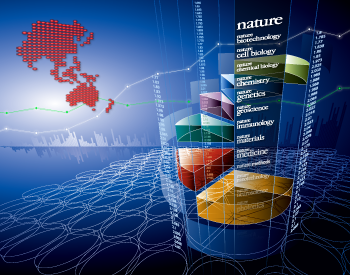 There are many ways to assess the research output of institutions, and the Nature Publishing Index Asia-Pacific is just one that should be used alongside many. What the Index offers is a unique insight to some of the highest quality basic research emerging from the rapidly developing Asia-Pacific region. The Index is updated on a weekly basis using a one-year moving window of data drawn from nature.com, the publishing platform for all Nature journals.
Users can drill down to find the abstracts of individual papers that make up the Index allowing deep analysis of where some of the best research in the Asia-Pacific region across a broad range of fields is coming from. The Index provides rankings by country, institution and research journal as well as historical data by country and institution extending back to 2007. This historical data shows the dramatic rise of output of high quality research from some countries in region, in particular China. Japan has held top place throughout the past decade and Tokyo University stands head and shoulders above all others in total output of papers in Nature journals.
However, there are several caveats that must be applied in interpreting the Index. Nature journals, although covering a broad spectrum of basic research in the life sciences, physical and chemical sciences, provide relatively limited coverage of applied sciences, engineering and clinical medicine. The Index should therefore be viewed as primarily an index of high quality basic and not applied research (although there are exceptions such as the journal Nature Photonics, based in Tokyo, which covers both domains).
The output of an institution or country obviously depends on the size of the institution or country. In this regard, Singapore with a population of only 4.8 million does remarkably well in the Index just below giants like Japan and China which have populations orders of magnitude larger than the little island state.
Also it needs to be borne in mind that researchers in Asia often hesitate to submit to new journals before they receive an Impact Factor which typically comes two or more years after launch. So data on journals such as Nature Chemistry and Nature Geoscience that have been launched within the past two years and have yet to receive an Impact Factor should be interpreted with caution as contributions from the region have probably yet to reach full scale.
With these caveats, we believe the Index provides an extremely powerful tool to assess and find some of the best basic research coming out of the Asia-Pacific region, and because all the raw data and abstracts of the research articles behind the Index are freely available and updated on a weekly basis, institutions and science policy makers are free to make their own interpretations and analysis of the data generated by the Index, provided they cite the Index as the source.

David Swinbanks PhD
Macmillan Science & Education
Managing Director, Australia & New Zealand

Nature Publishing Group
Managing Director, Regional Markets & Science & Medical Communications
Asia-Pacific | India | Middle East | Iberoamerica | Russia
Feedback and comments regarding the Nature Publishing Index Asia-Pacific can be sent to .