Nature Publishing Index 2011 - Asia Pacific
The Nature Publishing Index, on which the Nature Publishing Index 2011 Asia-Pacific is based, builds on the success of the 2009 and 2010 rankings, and provides an ongoing and useful record of the publishing activity of countries and institutions in the Asia-Pacific region in Nature journals. The current publication analyses publishing data for all institutions and countries in the Asia-Pacific region based on the affiliations of authors of primary research articles appearing in Nature journals in the 2011 calendar year. This year we have added articles from the Brief Communications section of Nature journals to the Index.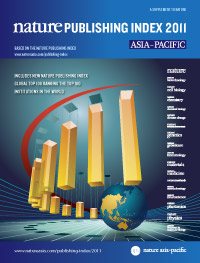 Download PDF [10mb]
(Site registration required)
The Nature Asia-Pacific Publishing Rankings 2011 is based on data from the Nature Publishing Index Asia-Pacific for the period between 1 January and 31 December 2011, and offers insight and analysis into the performance of all Asia-Pacific nations and territories appearing in the Index during that time. The magazine also offers a number of features not available on the Index website itself, such as year on year analysis, as well as introductions to the top ten research institutions from the top countries in the Asia-Pacific region in 2011 as judged by the Nature Publishing Index Asia-Pacific. Additional features include a guide to how to get the best out of the Index and a comprehensive list of the publishing records of the top five institutions in Nature and each of the 16 Nature sister journals. The magazine also includes full ranking data for the top 200 institutions from the Asia-Pacific region.
This year, simultaneous with the publication of the Asia-Pacific rankings, Nature Publishing Group has launched another index — the Nature Publishing Index Global Top 100 — as a beta website. The Global Top 100 ranks the top 100 institutions in the world according to their output of primary research articles in Nature research journals. This index helps place the Asia-Pacific rankings in a global context. Fourteen of the world's top 100 institutions are in Asia, seven from Japan, three from China, three from Australia and one from Korea. The growth in publications in Nature journals by scientists at Asia-Pacific institutions along with the presence of Asia-Pacific institutions in the Nature Publishing Index Global Top 100 testifies to the overall strengthening of research in the region.
Registered natureasia.com users can log in and download the PDF of the print issue for free. If you do not already have an account, site registration is free and takes only a minute.
Feedback and comments regarding the Nature Publishing Index Asia-Pacific can be sent to .