Project Manager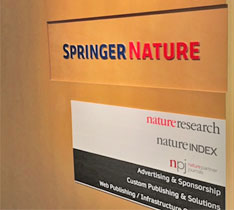 The Project Manager will provide publishing support for Nature Research's portfolio of custom publications, sponsored projects and native advertising solutions in Asia Pacific (excluding Greater China). The Project Manager will build relationships with clients, and will coordinate with cross-functional teams to deliver projects that meet clients' objectives.
Location
Tokyo
Key tasks
Build and maintain strong relations with existing clients across multiple projects
Understand client objectives and communicate these to internal stakeholders
Coordinate cross-functional, global teams to deliver projects that meet clients' objectives
Develop and continuously improve existing commercial publishing projects
Set and track budgets and manage P&Ls
Monitor and report on established KPIs for new products and services.
Support sales teams in the renewal of existing business and with new business development
Lead, inspire and empower a small, close-knit team
Act as a trusted interface between editorial and sales and marketing
Participate in exploratory/validatory research to inform product/service development and improvement
Establish best practice to support new products and services.
Key relationships
Institutional and corporate clients in the Asia-Pacific region (excluding China)
Commercial teams (in particular those in Japan, Australia, Korea and Singapore)
Creative team in Asia-Pacific (writers, editors, designers, video editors)
Marketing in London and New York
Web publishing in Japan & London
Qualifications
Essential
Degree-level professional with applicable proven track record, preferably in project management or publishing.
Project management certification an advantage.
Skills/knowledge
Be able to understand & create publishing timelines, both print and digital.
Must be comfortable with project management methodologies like Scrum, Agile etc
Experience in/knowledge of magazines, contract publishing, content marketing or advertising
Excellent client-facing skills and the ability to build relationships at the highest levels
Creative thinker
Thorough understanding of the needs of authors, referees, institutions and advertisers as key customers
Strong organisational and project management skills
Commercially astute; ability to create and interpret financial reports
Confident communicator in English and Japanese to a high standard, both written and verbal.
Ability to cope under pressure
Willingness to travel
Experience
Mid-long-term experience managing multiple commercial publishing projects
Experience with team management
Experience working in the Asia-Pacific region or working with Asian partners/organisations
Experience working in the academic sector highly desirable
Contact Details
Human Resources Department
Springer Nature